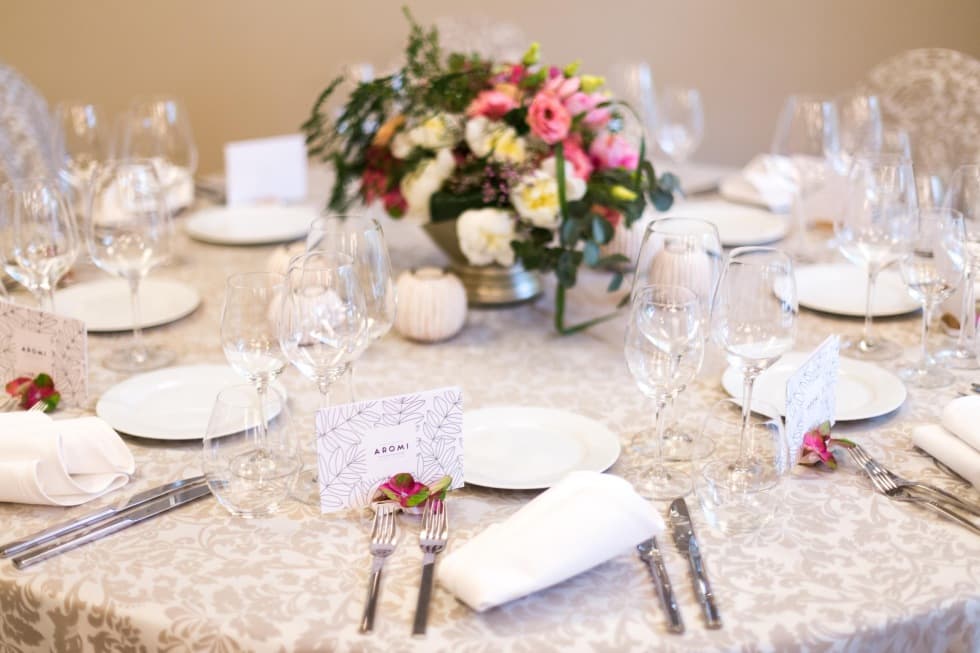 The Italian restaurant Aromi offers both individual and corporate clients the chance to rent unique facilities. This separate section of the restaurant is 132 m2, and includes a bar and fully equipped professional kitchen. The lovely atmosphere is complemented with art pieces and a view of the beautiful green Aromi garden. The alternate space has several sections including a bar, serving tables and seating for the guests.
WHAT DO WE OFFER?
The main room has a seating capacity of around 80 guests. We can seat another 50 guests in the garden, and we have standing room for another 50. We can create a smoking area in the garden, if required. The options for our other space are limitless. We have hosted press conferences, product presentations, private parties, weddings an christening parties.
PRESS CONFERENCES

Full service with catering and optional audio-visual equipment
TEAMBUILDING

Give your team an experience, that they will never forget
CORPORATE PRESENTATION / CONFERENCE

Enjoy a quiet, private environment separated from the restaurant. In Aromi, we also know how to manage all-day conferences for larger groups.
CORPORATE PARTIES

Are you planning a Christmas party, or other company celebration? Aromi is the right place!
BUSINESS MEETINGS / TRAINING / MEETINGS

Are you looking for private space for an important meeting? Aromi is also here for that.
SOIRÉE AND PARTIES

Do you have a reason to celebrate? In Aromi, we can organize it all to your liking. From decorations and catering, to drinks, and a cake with candles. Everything prepared with an eye for detail, and with true Italian hospitality.
BACHELOR PARTY

Planning to spend your last night of freedom in style, with delicious food and drinks? Then we are here for you!
FAMILY AND CHILD CELEBRATIONS

The birth of a child, christening parties, or birthdays. For all of these important milestones, Aromi is ready. We will make your special day even more spectacular.
WEDDINGS

Weddings are one of the most beautiful and important events of our lives. So why not indulge yourself with only the best at Aromi?
OTHER AREAS WITHIN LA COLLEZIONE NETWORK