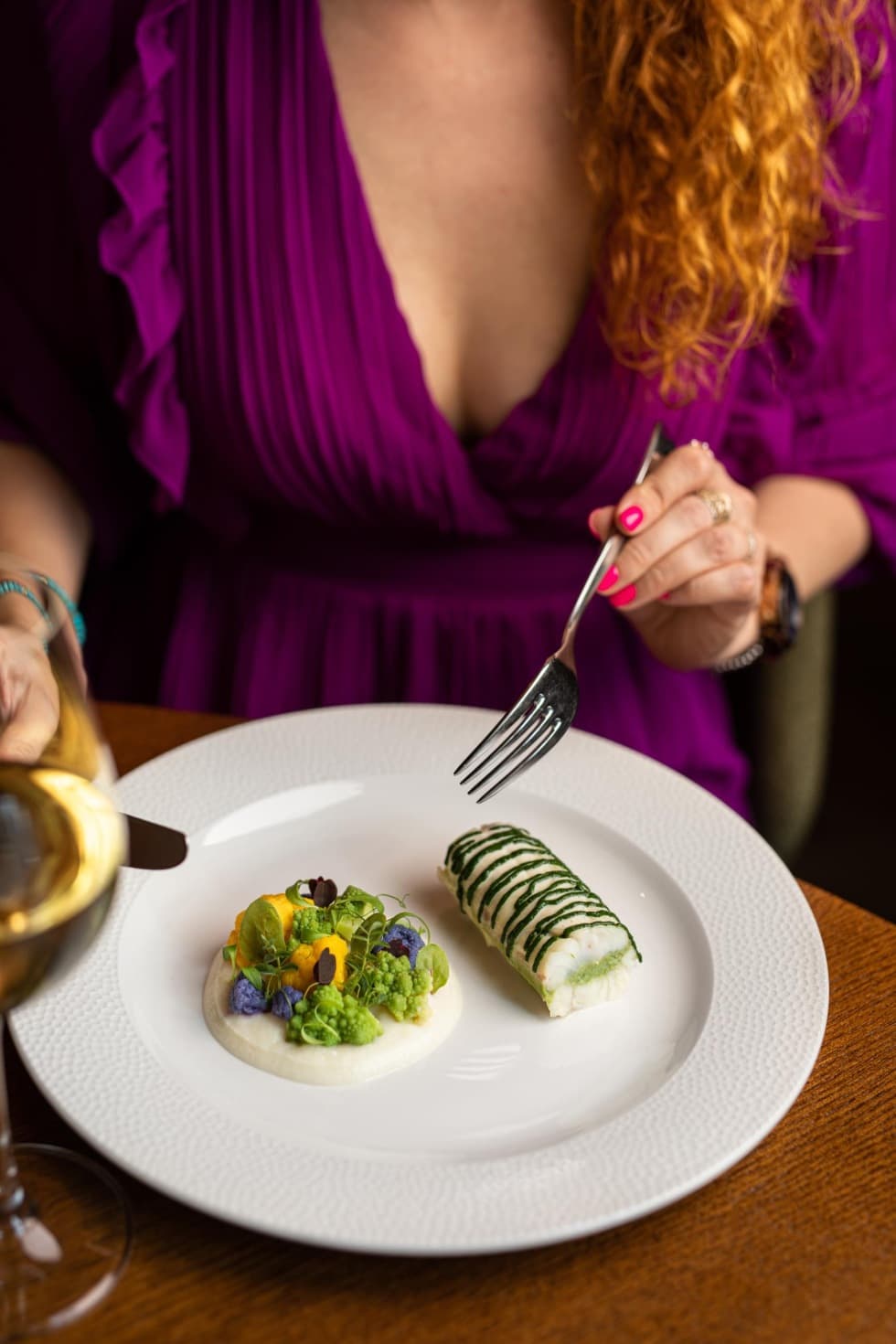 Selection of fine seafood served raw or cooked to your liking
Selezione di frutti di mare di qualitá serviti crudi o cotti a vostro piacere
MARKET OYSTERS choice of Italian citrus dressing
OSTRICHE DI MERCATO scelta di condimento agli agrumi italiani
By piece /Al pezzo
115 Kč
SICILIAN RED PRAWNS
GAMBERO ROSSO SICILIANO
By weight 100 g / Al pesco 100 g
MAZZANCOLLE PRAWNS
MAZZANCOLLE MEDITERRANEE
BLUEFIN TUNA TORO
TONNO PINNA BLU
Our seafood consumed raw, with the exception of oysters, is chilled to – 20°and subsequently kept at this temperature for at least 24 hours to ensure a remediation treatment and safe consumption of seafood.
I frutti di mare consumati crudi ad eccezione delle ostriche, subiscono un abbattimento
a –20° e successivamente mantenuti a questa temperatura per almeno 24 ore per assicurare un trattamento di bonifica e un consumo sicuro di frutti di mare.
GRILLED CALAMARI
"LIKE BACK HOME" with anchovy mayonnaise and lemon
CALAMARI GRIGLIATI COME A CASA maionese di alici e limone
FASSONA BEEF TARTARE TONNÉ
crispy potato mille-feuille
TARTARE DI FASSONA TONNATA millefoglie di patate
LANGOUSTINES "ALA PIZZAIOLA"
orange emulsion, Datterino tomatoes, olives, capers, basil
SCAMPI "ALA PIZZAIOLA"
emulsione d'arancia, Datterino tomatoes, olive, capperi, basilico
GOAT CHEESE PRALINES
beetroot, spinach, oxalis, crunchy butter leaves
PRALINE DI FORMAGGIO DI CAPRA
rape marinate, spinaci, oxalis, foglie di burro croccanti
TRADITIONAL CANNELINI BEAN CREAM SOUP
seafood and garganelli pasta
PASTA E FAGIOLI al mare
CHICKEN AND SAFFRON CONSOMMÉ 
with cappelletti
BRODO RISTRETTO DI POLLO con zafferano e cappelletti
RISOTTO AGLIO, OLIO E PEPERONCINO
with marinated sardines
RISOTTO AGLIO, OLIO E PEPERONCINO con sardine marinate
LOBSTER SPAGHETTI "MANCINI"
Datterino tomatoe sauce
SPAGHETTI "MANCINI" ALL' ASTICE
passata di pomodorini
half / whole lobster
795 / 1295 Kč
RAVIOLI FILLED WITH PECORINO ROMANO CHEESE
Williams pears, saffron-butter emulsion
RAVIOLI FILLED WITH PECORINO ROMANO CHEESE
pere Williams, emulsione di zafferano e burro
MEZZE-MANICHE MANCINI
duck ragout with Nebbiolo, duck heart dust
MEZZE-MANICHE MANCINI
ragu d'anatra con vino Nebbiolo, polvere di cuore d'anatra
We are proudly serving Mancini pasta. The farm that produces pasta
in the middle of a wheat field in the Marche region.
Serviamo orgogliosamente Pasta Mancini. Un' azienda Agricola che produce
pasta in mezzo ad un campo di grano nelle Marche.
GRILLED OCTOPUS
potato-parsley purée, salmon caviar, beurre blanc sauce
POLPO ALLA GRIGLIA
con puré di patate e prezzemolo, caviale di salmone e salsa beurre blanc
VENISON LOIN
Jerusalem artichoke, hazelnuts, beets and turnips, juniper sauce
LANZO DI CAPRIOLO
topinambur, nocciole, cavolini e rape, salsa al ginepro
SEA BREAM ROULADE
spinach, cauliflower cream, romanesco, zabaione with prosecco and oysters
ROTOLO D'ORATA CON SPINACI
créma di cavolfiore, romanesco, zabaione al prosecco e ostriche
FRIED ZUCCHINI
ZUCCHINE FRITTE
ROASTED POTATOES
PATATE AL FORNO
SAUTEED SPINACH with garlic and chilli
SPINACI con aglio e peperoncino
MASHED POTATOES
CREMA DI PATATE AL BURRO
GRILLED SEASONAL VEGETABLES
VEGETALI DI STAGIONE GRIGLIATI
Chocolate fondant with strawberries and vanilla ice cream
Fondente al cioccolato con fragole e gelato alla vaniglia
CHAMPAGNE VILMART & CIE GRAND CELLIER BRUT / 0,12 l
Goat cheese crème brûlée with apricots and apricot sorbet
Crème brûlée al formaggio di capra con albicocche e sorbetto all'albicocca
RIESLING AUSLESE FAHRLAY 2011
Clemens Busch, Mosel / 0,05 l
Mascarpone mousse with raspberries, lychee and raspberry sorbet
Mousse al mascarpone con lamponi, litchi e sorbetto al lampone
RECIOTO DI SOAVE COL FOSCARIN 2011
Gini, Veneto / 0,05 l
Claudio Corallo dark chocolate sorbet with Gianni Frasi coffeee
Sorbetto al cioccolato amaro Claudio Corallo "affogato" al caffè Gianni Frasi
VIN SANTO LA SORPRESA 2015
Pacina, Toscana / 0,05 l
Coconut panna cotta with mango, passion fruit and passion fruit sorbet
Panna cotta al cocco con mango e sorbetto al frutto della passione
MOSCATO D'ASTI 2019
Paolo Saracco, Piemonte / 0,10 l
SELECTION OF DESSERTS ACCORDING TO THE DAILY OFFER
Una selezione di dolci vi aspetta

The menu with labeled allergens is available upon request of the staff.
Service charge of 12, 5% will be added to the final bill for the groups of 8 and more guests.
All prices are in Czech crowns and inluding VAT.