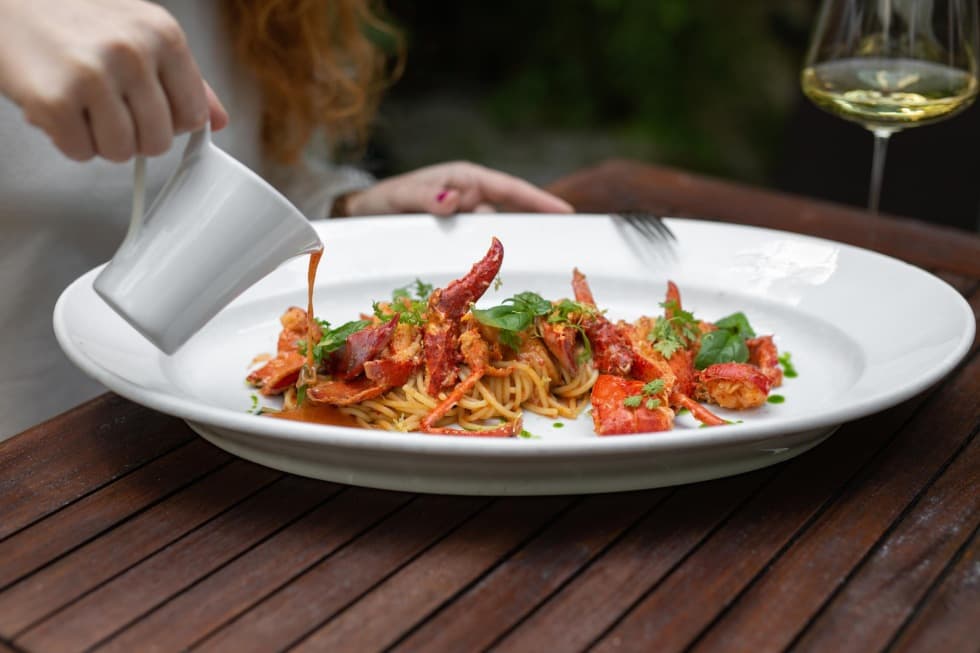 Selezione di frutti di mare di qualitá serviti crudi o cotti a vostro piacere
Selection of fine seafood served raw or cooked to your liking
MARKET OYSTERS choice of Italian citrus dressing
red bell pepper and chilli purée / green chilli gel
OSTRICHE DI MERCATO scelta di condimento agli agrumi italiani / purè di peperoni rossi e peperoncino / gel di peperoncino verde
By piece /Al pezzo
115 Kč
SICILIAN RED PRAWNS
GAMBERO ROSSO SICILIANO
By weight 100 g / Al pesco 100 g
MAZZANCOLLE PRAWNS
MAZZANCOLLE MEDITERRANEE
BLUEFIN TUNA TORO
TONNO PINNA BLU
Our seafood consumed raw, with the exception of oysters, is chilled to – 20°and subsequently kept at this temperature for at least 24 hours to ensure a remediation treatment and safe consumption of seafood.
I frutti di mare consumati crudi ad eccezione delle ostriche, subiscono un abbattimento
a –20° e successivamente mantenuti a questa temperatura per almeno 24 ore per assicurare un trattamento di bonifica e un consumo sicuro di frutti di mare.
GRILLED CALAMARI "LIKE BACK HOME"
with anchovy mayonnaise and lemon
CALAMARI GRIGLIATI COME A CASA maionese di alici e limone
FASSONA BEEF TARTARE TONNÉ crispy potato mille-feuille
TARTARE DI FASSONA TONNATA millefoglie di patate
EGG 62° MILANESE mantecated cod and parmesan air
UOVO ALLA MILANESE 62° baccala mantecato ed aria di Parmigiano
SCALLOPS caviar of beluga lentils
CAPESANTE lenticchie beluga come il caviale
PRAWNS AND CORN BROTH liquid parmesan cappelletti
RISTRETTO DI GAMBERI E MAIS cappelletti di parmigiano liquido
PASTA E FAGIOLI
Borlotti beans, pork trotters nervetti and Altamura bread bruschetta
PASTA E FAGIOLI borlotti, nervetti e bruschetta di Altamura
RISOTTO AL CASTELMAGNO
"Melotti" with fermented carrots and Castelmagno cheese
RISOTTO AL CASTELMAGNO "Melotti" con carote fermentate
e Castelmagno
LOBSTER SPAGHETTI "MANCINI"
Datterino tomatoe sauce whole lobster
SPAGHETTI "MANCINI" ALL' ASTICE passata di pomodorini
half / whole lobster
625 / 925 Kč
BEEF CAPPELLACCI Cacio & Pepe sauce and black truffle
CAPPELLACCI DI MANZO Cacio e Pepe e tartufo nero
RIGATONI "MANCINI"
mantis shrimp sauce, seafood crudi and Datterino tomatoes
RIGATONI "MANCINI" crudi di mare, canocchie e pomodorini crudi
We are proudly serving Mancini pasta. The farm that produces pasta
in the middle of a wheat field in the Marche region.
Serviamo orgogliosamente Pasta Mancini. Un' azienda Agricola che produce
pasta in mezzo ad un campo di grano nelle Marche.
BARBEQUED OCTOPUS black cabbage, Jerusalem artichoke and fermented mushrooms
POLPO AI CARBONI cavolo nero, topinambur e funghetti fermentati
QUAIL AND FOIE GRAS wild broccoli, hazelnut and marsala reduction
QUAGLIA E FEGATO GRASSO cime di rapa, nocciole e riduzione di marsala
LENTILS POLPETTE chickpea ragout and vegan mayonnaise
POLPETTE DI LENTICCHIE ragù di ceci e e maionese vegana
FRIED ZUCCHINI
ZUCCHINE FRITTE
ROASTED POTATOES
PATATE AL FORNO
BLACK CABAGGE AOP garlic, oil and chilli
CAVOLO NERO aglio, olio e peperoncino
MASHED POTATOES
CREMA DI PATATE AL BURRO
GRILLED SEASONAL VEGETABLES
VEGETALI DI STAGIONE GRIGLIATI
SELECTION OF DESSERTS ACCORDING TO THE DAILY OFFER
Una selezione di dolci vi aspetta

The menu with labeled allergens is available upon request of the staff.
Service charge of 12, 5% will be added to the final bill for the groups of 8 and more guests.
All prices are in Czech crowns and inluding VAT.