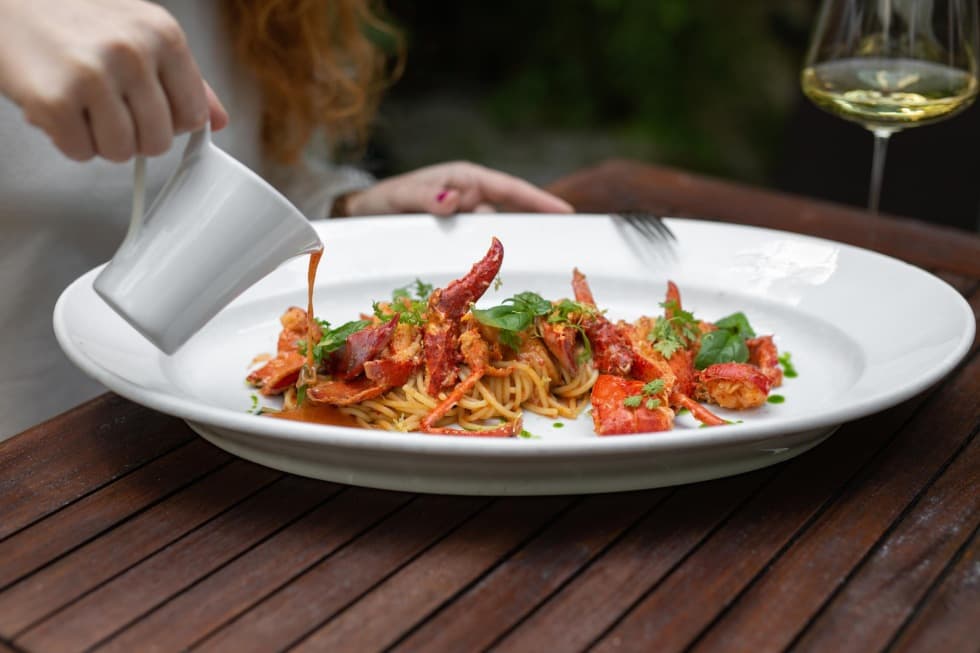 Selezione di frutti di mare di qualitá serviti crudi o cotti a vostro piacere
Selection of fine seafood served raw or cooked to your liking
MARKET OYSTERS choice of Italian citrus dressing
red bell pepper and chilli purée / green chilli gel
OSTRICHE DI MERCATO scelta di condimento agli agrumi italiani / purè di peperoni rossi e peperoncino / gel di peperoncino verde
By piece /Al pezzo
115 Kč
SICILIAN RED PRAWNS
GAMBERO ROSSO SICILIANO
By weight 100 g / Al pesco 100 g
MAZZANCOLLE PRAWNS
MAZZANCOLLE MEDITERRANEE
BLUEFIN TUNA TORO
TONNO PINNA BLU
Our seafood consumed raw, with the exception of oysters, is chilled to – 20°and subsequently kept at this temperature for at least 24 hours to ensure a remediation treatment and safe consumption of seafood.
I frutti di mare consumati crudi ad eccezione delle ostriche, subiscono un abbattimento
a –20° e successivamente mantenuti a questa temperatura per almeno 24 ore per assicurare un trattamento di bonifica e un consumo sicuro di frutti di mare.
GRILLED CALAMARI "LIKE BACK HOME"
with anchovy mayonnaise and lemon
CALAMARI GRIGLIATI COME A CASA maionese di alici e limone
FASSONA BEEF TARTARE TONNÉ
crispy potato mille-feuille
TARTARE DI FASSONA TONNATA millefoglie di patate
EGG 62 °C MILANESE
mantecated cod and parmesan air
UOVO ALLA MILANESE 62 °C
baccala mantecato ed aria di Parmigiano
COTTO E CRUDO OF SEAFOOD
potato foam
COTTO E CRUDO DI FRUTTI DO MARE
e schiuma di patate
OYSTERS
smoked eel, horseradish panna cotta, avocado, cucumber, sea asparagus
OSTRICHE
anguilla aff umicata, panna cotta al rafano, avocado, cetriolo, asparagi di mare
GREEN PEA AND CRAB SOUP
with cuttlefish popcorn
CREMA DI PISELLI e granceola con popcorn di seppia
CHICKEN AND SAFFRON CONSOMMÉ 
with cappelletti
BRODO RISTRETTO DI POLLO con zafferano e cappelletti
OYSTER AND SEA URCHIN RISOTTO
RISOTTO DI OSTRICHE E RICCI DI MARE
LOBSTER SPAGHETTI "MANCINI"
Datterino tomatoe sauce whole lobster
SPAGHETTI "MANCINI" ALL' ASTICE
passata di pomodorini
half / whole lobster
795 / 1295 Kč
RIGATONI "MANCINI"
mantis shrimp sauce, seafood crudi and Datterino tomatoes
RIGATONI "MANCINI"
crudi di mare, canocchie e pomodorini crudi
AGNOLOTTI AL PLIN
wild garlic, Taleggio fondue, seasonal
AGNOLOTTI AL PLIN
aglio orsino, fonduta di Taleggio, funghi di stagione
We are proudly serving Mancini pasta. The farm that produces pasta
in the middle of a wheat field in the Marche region.
Serviamo orgogliosamente Pasta Mancini. Un' azienda Agricola che produce
pasta in mezzo ad un campo di grano nelle Marche.
GRILLED OCTOPUS
with parsley purée, salmon caviar and beurre blanc sauce
POLPO ALLA GRIGLIA
con purea di prezzemolo, caviale di salmone e salsa beurre blanci
SUCKLING LAMB
pistachios, celeriac, guanciale, brown butter and rosemary jus
AGNELLO DA LATTE
pistacchi, sedano, guanciale, burro marrone e riduzione al rosmarino
VARIATIONS OF TEMPURA SEASONAL VEGETABLES
lemon-basil mayonnaise
VARIAZIONI DI VERDURE DI STAGIONE IN TEMPURA
maionese al limone e basilico
FRIED ZUCCHINI
ZUCCHINE FRITTE
ROASTED POTATOES
PATATE AL FORNO
KALE AOP garlic, olive oil and chilli
CAVOLO RICCIO AOP aglio, olio d'oliva e peperoncino
MASHED POTATOES
CREMA DI PATATE AL BURRO
GRILLED SEASONAL VEGETABLES
VEGETALI DI STAGIONE GRIGLIATI
SELECTION OF DESSERTS ACCORDING TO THE DAILY OFFER
Una selezione di dolci vi aspetta

The menu with labeled allergens is available upon request of the staff.
Service charge of 12, 5% will be added to the final bill for the groups of 8 and more guests.
All prices are in Czech crowns and inluding VAT.