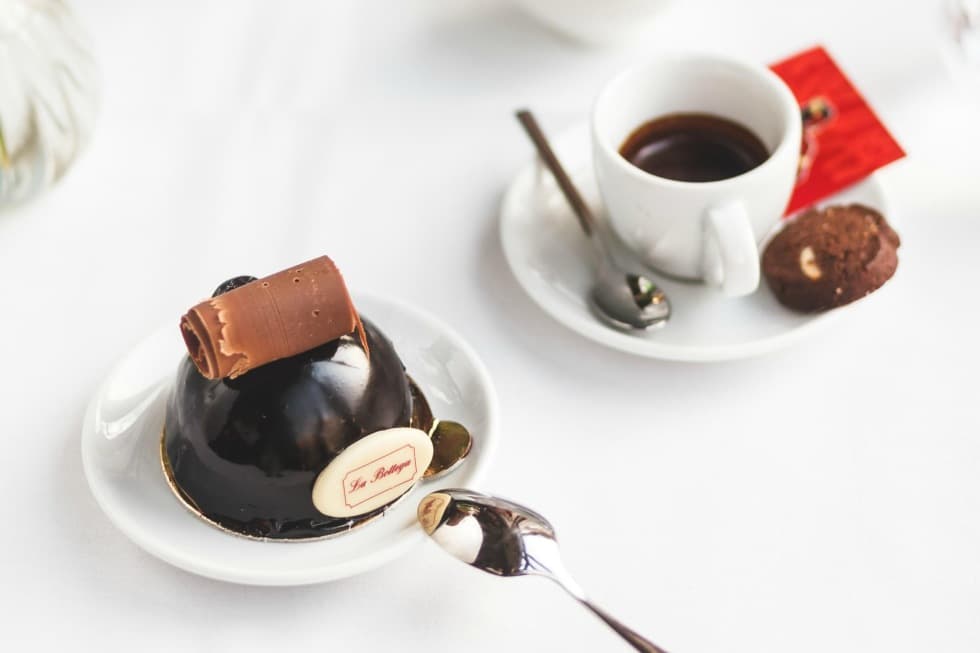 There are two different groups of people. The ones who are lured easily with the smell of freshly prepared coffee into the nearest coffee shop. And also the ones who can not resist proper size desserts. Since 15th of February we bring those two groups together and we are proud to introduce you "Mlsná káva" at all La Bottega bistro and in the front part of Aromi.
Mlsná káva means that we offer on workdays between 3pm and 5pm a coffee and one big (or two small) dessert of your choice only for 99 CZK. Our sweet products are prepared by our skilled pastry chefs and are daily fresh.
And we do not offer just some ordinary coffee. As a few of the lucky ones we import very special Italian espresso blend made by master in his field of expertise, Gianni Frasi. This coffee roaster carries on with tradition of his uncle Giovanni Erbesti who was roasting coffee beans in his Verona house since 1947. Giovanni exceeds above the others because as one of the last few he roasts his beans on open fire. Exactly how his uncle used to made it. On the top of that he uses the same machines and equipment. The philosophy about coffee runs in the family and stays the same. To avoid dark roasting in order to preserve the most delicate taste and aroma. Gianni really cares about the origin of his coffee beans and how they are harvested. In this drift he does make any compromises and every step of his coffee preparation has own meaning and order.

And coffee comes always handy with something sweet. And our pastry chefs are the righ ones to satisfy our cravings. Everyday they prepare fresh Italian anise cookies, biscotti or huge flavoured meringues.
Now it is also you who can experience the real "dolce vita". The only thing you have to do is to stop by and enjoy your moment. We will be looking forward to see you.