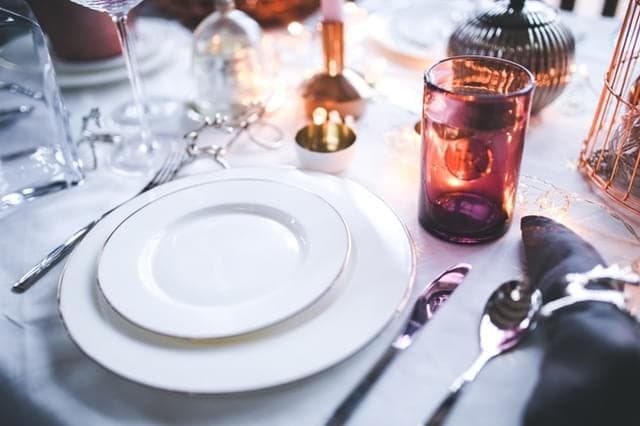 More and more Czech people opt out the traditional fried carp and potato salad and go for more alternative ways what to eat during the Christmas Eve. If you also belong to this group and you prefer to spend the festive day without extra effort and stress you can make the best of our annual Christmas dinner on 24th of December. You will enjoy several course dinner which will contain the highest quality delicatessen and products.
The selection of food made by chef Robert Loos and his team will be accompanied with best Italian wines. The main focus will be, as always at Aromi, on sea food and fishes.
Truffeled scallops carpaccio and celery salad
Carpaccio di capesante al tartufo e insalata di sedano
PINOT GRIGIO, Hartmann Donà, ALTO-​ADIGE 2015
Strong duck consomée and tortelloni filled duck meat, smoked red onion
Tortelloni ripieni e brodo di anatra, cipolla rossa affumicata
DINAVOLINO, Denavolo, EMILIA-​ROMAGNA 2014
Raw tuna spaghetti with bagna couda sauce and pistachio nuts
Spaghetti al tonno crudo, bagna càuda e pistacchi
SP68 BIANCO, Arianna Occhipinti, SICILIA 2015
Surf and turf beef Chianina steak with shrimp tempura, saffron potatoes purée and roasted garlic sauce
Bistecca chianina surf and turf con tempura di gamberi, puré di patate al parmigiano e salsa càuddi aglio grigliato
ROSSO DI MONTALCINO, Castello di Argiano Sesti, TOSCANA 2013
Caramelized Babá with chestnut and berries
Babà caramellato, castagne e frutti di bosco
RECIOTO di Soave COL FOSCARIN, Gini, VENETO 2010


The price of the entire menu for a single person is 1 950 CZK. The price of the entire menu with wines is 2 950 CZK per person.

The reservations can be done via email info@aromi.cz or by phone +420 222 713 222 or feel free to ask our staff.