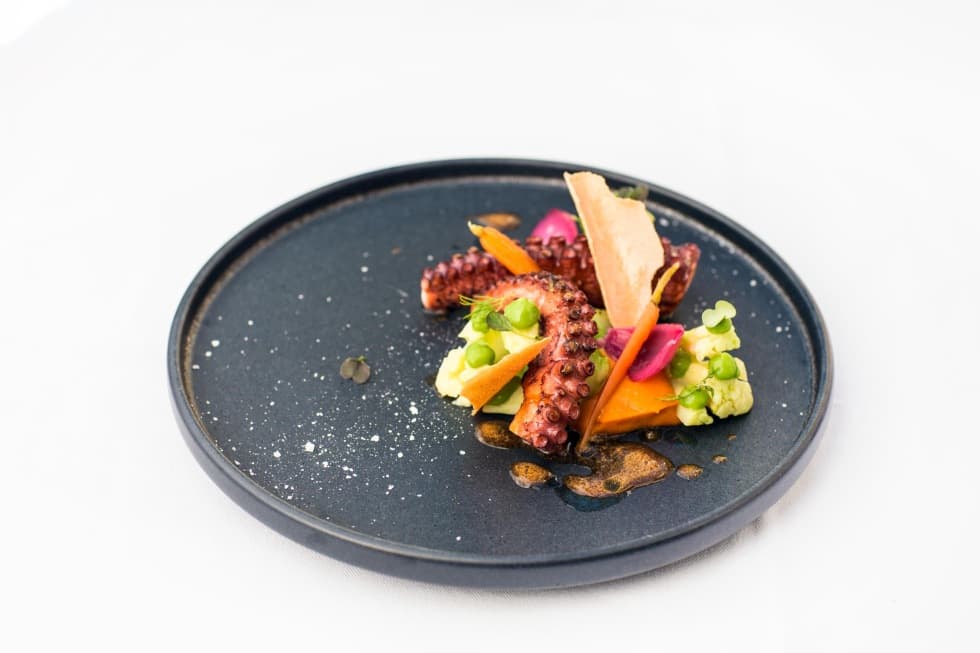 Before we show you the new dishes, we'll tell you what we've kept on the menu. You can still enjoy the popular beef tartare with grilled bone marrow or Jerusalem artichoke risotto and smoked eel. And we couldn't exclude the delicate beef ribs with smoked potato purée and onion hearts.
Our new appetizers will remind you of the sea and summer holidays. We feature a combination of Red Sicillian prawns with fresh passion fruit, creamy burrata and seafood biscuit, as well as deep fried seafood with ginger mayonnaise. We also offer a fresh and surprising combination with squid tagliatelle over seared robiola cheese, apricot and lemon coulis and quinoa popcorn. The soup category was refreshed with a light cream of green peas with seared calamari and squid ink crumble.
We couldn't miss the category of pasta, either. We recommend you try Paccheri, a special kind of pasta similar to Cannelloni, originally from Campania and Calabria. Our team combines this pasta with mantis shrimp and a creamy sauce. Mantis shrimp is a classic seafood dish in Italy, and is similar to an elongated crayfish. We present another star on the menu with a special tortellini stuffed with pecorino di Fossa "Beltrami" with smoked butter and drops of balsamic vinegar. The term "di Fossa" means the pecorino is matured in a hole, cave, hollow, or directly in the cellar, often with hay or straw. It adds a specific flavour at the end of the process. Our pecorino comes from the Beltrami producers in the Marche region.
Among the main courses, we have to highlight the grilled octopus with baby carrot purée, Romanesco and pickled red onion. This food is so colourful, it's like a work of art. A new fish dish is the seared tuna with grilled calamari, parsley sauce and potatoes Anna. If you prefer fowl, we recommend our variation of corn-​fed chicken with artichokes, young beetroot and fava beans.