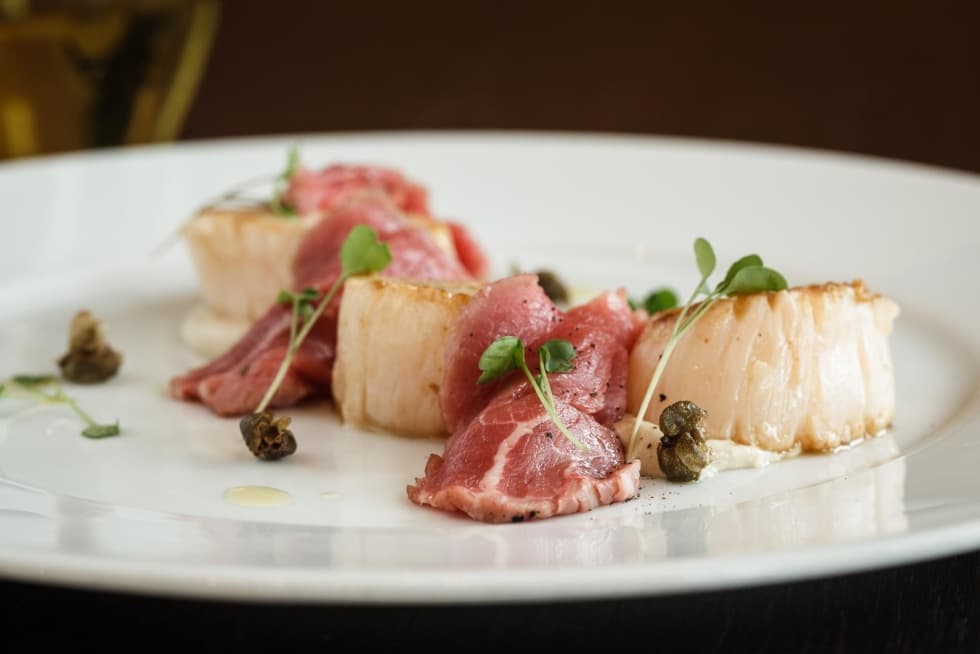 As the seasons change, so does Aromi's menu. For the next couple of weeks we have renewed the a la carte menu, which is again created by Chef Robert Loos in collaboration with Riccardo Lucque. What stays the same, though, is the main theme, which this time involves fish and seafood.
And what has Aromi prepared? The menu is, as always, full of interesting combinations and flavors, eg. Seasonal fruits and seafood. For lovers of seafood we offer marinated prawns over pineapple carpaccio with pomegranate dressing and chili or grilled octopus served with squid-​chickpea puree and piennolo tomatoes.
Don't worry; we haven't forgotten those who prefer to focus more on meat. We believe the meat lovers we will be pleased by our boar ragout ravioli served with pumpkin puree and pecorino cheese or maple syrup glazed duck breast with red cabbage, figs and mushroom flan. The menu will also include a traditional fall favorite – venison - in this case sika deer.
It is also worth it to mention that a delight to satisfy those with a sweet tooth crowns the entire menu; the famous la dolce vita. You will love the poached pear, white chocolate truffle, spice and gingerbread, and pear sorbet.
You can enjoy the new menu every day from 12:00 to 15:00 and in the evening from Friday to Saturday from 17:00 to 23:00 and Sunday from 17:00 until 22:00.
The restaurant accepts reservations by phone + 420 222 713 222 or email info@aromi.cz. Your place can be booked via Restu and Zomato.
We look forward to your visit and hope you will enjoy the new menu.