New Year´s Eve a la James Bond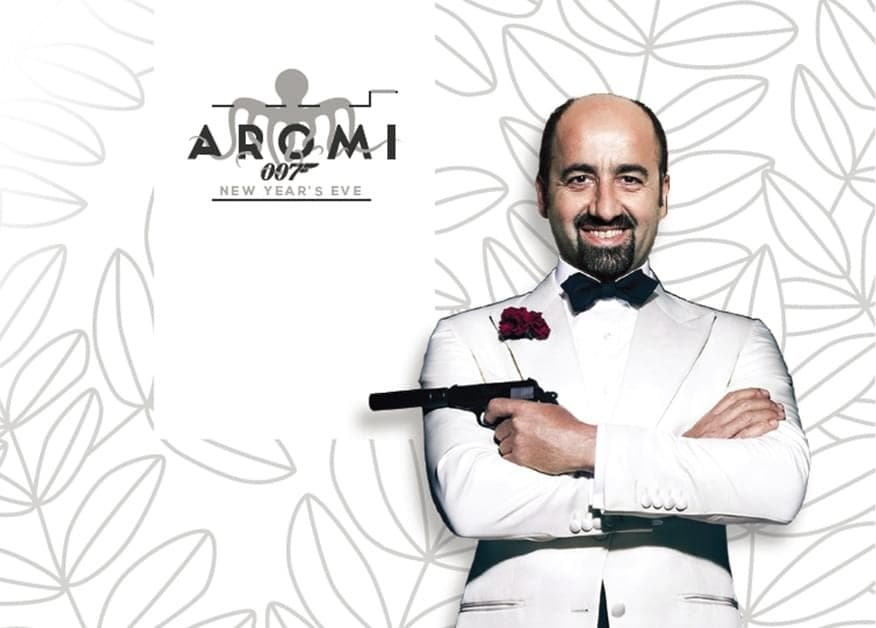 Do you want to enjoy the tranquillity of the last day of the year and celebrate the coming of the new in an original way? Imagine that there is a very easy solution to enjoy a truly unforgettable New Year's Eve. Celebrate the end of the year in the spirit of James Bond with a mobile casino, live swing music along with gastronomic delicacies prepared for 007 at Aromi. Enjoy our seven course menu named after James Bond movies. And perhaps the new James Bond will show up.
Prosecco di Valdobbiadene Sur Lie, Cosa Coste Piane, Veneto 2014, 0,12l
Scallops Carpaccio with foie gras "torchon", champagne jelly and smoked foam
Prosecco di Valdobbiadene San Floriano, Nino Franco, Veneto 2014, 0,12l
Prawn Medallions, tomatoes-​avocado, grilled lettuce salad and raw salmon
Sauvignon La Foà, Colterenzio, Alto Adige 2014, 0,1l
Monkfish Saltimbocca, saffron potatoes, mussels and seaweed ketchup
Sassocarlo bianco Terre a Mano, Fatt. di Bacchereto, Marche 2011, 0,1l
Ravioli with egg yolk and buffalo ricotta filling
Nebbiolo langhe, Guiseppe Mascarello, Piedmont 2013, 0,1l
Veal and Jerusalem Artichoke topinambur
Vino nobile di Montepulciano Riserva, Sanguineto, Toscana 2011, 0,1l
Vanilla Bourbon Risotto with roasted figs, cocoa beans and gingerbread
Vin santo La Sorpresa, Pacina, Toscana 2007, 0,05l
Guy Charlemagne Classic Brut, Champagne S.A., 0,12l
Do not miss our James Bond New Year´s Eve Party and book your table as soon as possible.

Places can be booked by phone +420 222 713 222 or by e-​mail info@aromi.cz.

Be our guests and come join us to celebrate the end of this year.
We look forward to seeing you!

Aromi team