Riccardo Agostini at Aromi!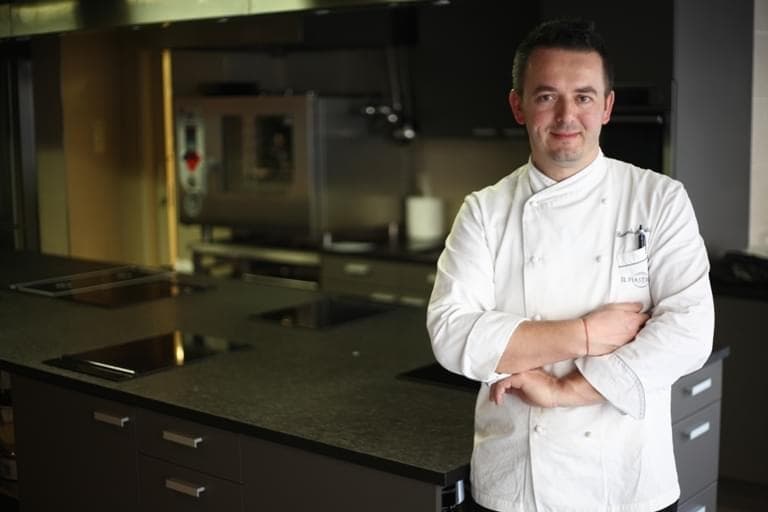 Riccardo Agostini, Italian chef, the owner of the Il Piastrino restaurant and the owner of the prestigious Michelin Star is coming to Prague at the invitation of Riccardo Lucque.
Flan di erbette, bottarga e pecorino
Casa Coste Piane, Prosecco di Valdobbiadene Sur lie, Veneto 2013
Puntarelle salad and herrings
Sauvignon Hartmann Doná, Alto Adige 2013
StrollingPappa al pomodoro
Pappa al pomodoro da passeggio
Gavi La Raia, Piemonte 2013
Artichoke and home made Baccalá
Carciofo e Baccalá Marinko da noi
Riesling Vom Grauen Schiefer, Clemensbusch, Mosel 2013
Soft egg, potatoes and radishes
Uovo morbido patate e radici
Manzoni bianco, Fontanasanta Foradori, Trentino 2011
Gnocchi filled with cime di rapa, carbonara of sturgeon bacon
Gnocchi farciti di cime di rapa, bacon di storione alla carbonara
Aglianico Le Fole, Cantina Giardino, Campania 2010
Beef Marchigiana with cacao beans, sour cherries and topinambur
Marchigiana al grup di cacao, visciole e topinambur
Rosso Conero Vigna La Gattara, Fattoria San Lorenzo, Marche 2008
Cooked milk, lentils spaghetti with rum mou
Latte cotto, spaghetti di lenticchie e mou al rum
La Sorpresa, Pácina, Toscana 2007
Riccardo Agostini and the restaurant team are looking forward to seeing you!