AROMI EVEN BETTER THAT YOU KNOW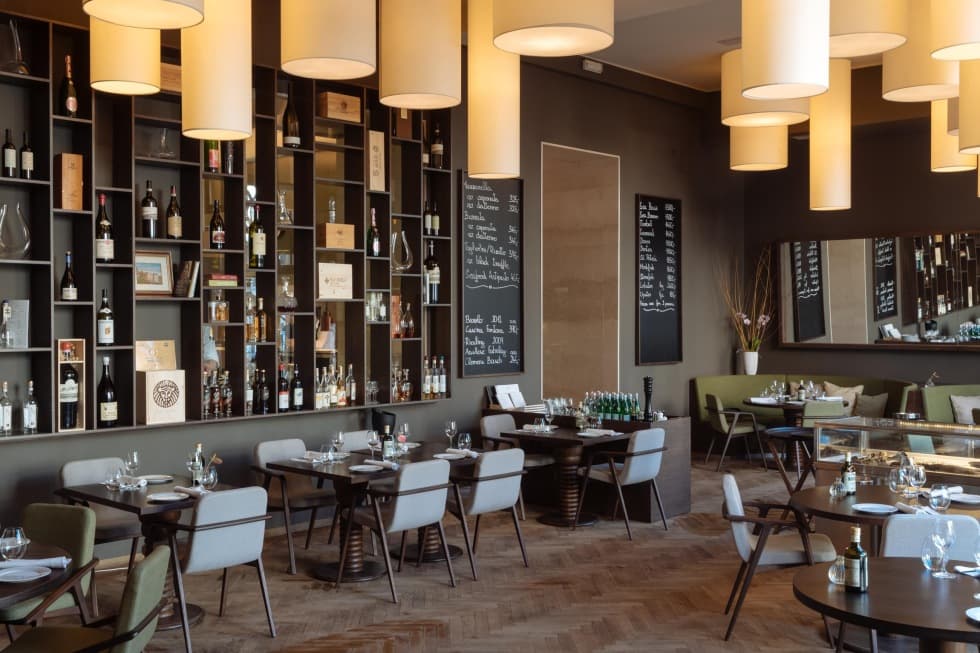 Restaurant Aromi has recently undergone a renovation and should not be overlooked. In today's article, we will tell you who we entrusted with the changes to the interior, and what is new inside.
Like the restoration of our sister restaurant La Finestra, we collaborated with NOE, and architects Simona Zapletalová and Radek Sottl. The design process for the new interior began about a year ago in response to feedback from our customers who felt the new space lacked the comfort of the original Aromi. The goal for the reconstruction was not a complete change of the interior, but rather an effort to fine-​tune the atmosphere with
The changes were made in several steps, with a substantial part of the upgrades being made in a week. First the paint was changed to a deep, dark and expressive shade. This makes the restaurant feel more warm and intimate. Next were the changes to the interior lighting. The architects chose a handmade parchment paper, adding it to antique table and floor lamps, including a beautiful refurbished floor lamp by Mr. Halabala.
The main bar at the front of the restaurant, previously covered with a black mosaic, underwent a major change, and now the massive golden shelf holders stand out behind the bar.
At the back of the restaurant, we decided to break up the room a bit, which was achieved by rearranging the tables, and changing the location of our seafood display case, which was a new addition to the restaurant. The lighting from the kitchen used to shine through the window, and sometimes disturbed the guests. We've now covered it slightly with a large shelf.
To add to the warmth, we painted the fireplace with a golden color that reflects the vivid fire all around the back windows. Noble's space now features Le Courbiser's original worksheets from the Palbric Art Foundation. On the lower level, used mainly for banquets and other special events, we also changed the lighting, bar area and updated the wall décor.
We hope you will enjoy the new Aromi interior, and that the new atmosphere will enhance your gastronomic experience. Come and see!